COVID 19

COVID-19 can affect anyone, and the disease can cause symptoms ranging from mild to very severe. We know that certain things can make people more likely to get very sick with COVID-19. We also know that certain settings and activities can make you more likely to get infected with the virus that causes COVID-19.

Current Guideline Summary:

Remain home if you are sick with respiratory or gastrointestinal symptoms, such as, cough, fever, sore throat, vomiting or diarrhea and get tested if possible.

Quarantine is no longer recommended for exposure to Covid-19 as long as you remain symptom free.

If exposed to Covid-19, it is recommended to wear a well-fitted mask for 10 days in public indoor settings, which includes school, and to test on or after day 5 or sooner if symptoms develop.

If testing positive, individuals must isolate for 5 days beginning the day after the development of symptoms or the day after the positive test. After day 5, the individual must be fever free without fever reducing medication and symptoms must be improving. Individuals completing isolation should wear a well-fitted mask for days 6-10. If you have medical conditions or are immunocompromised, you should contact your healthcare provider to seek treatment.

If, after 5 days, symptoms recur or worsen, isolation will begin again. It is recommended to contact your healthcare provider.

Universal masking and social distancing is not required. Masks are no longer required on school buses. Masks are required on public transportation. However, if someone wishes to wear a mask, they are free to do so.

We have rapid home test kits available at school at no cost.

We will continue to offer PCR (Quadrant) testing for those who wish it at school at no cost as long as we are able to. Please feel free to contact us for information at 315-846-5323. To register your child for this test, please go to https://app.clarifi-covid-19.com/register.

Links

**If the school experiences a Covid-19 outbreak, we will work with our local health department in accordance with state and local regulations.

***Please note that if we become a high transmission area, guidelines may change in accordance with guidelines set by the New York State Education Department and New York State Department of Health.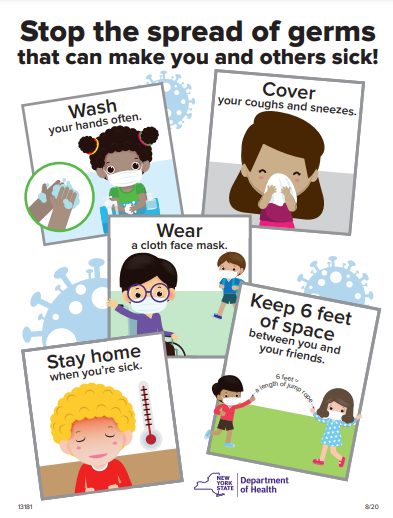 VACCINES

Staying up-to-date on Covid-19 vaccinations continues to be a leading public health strategy to prevent severe illness.

Everyone 6 months and older is now eligible for the COVID-19 vaccination. All school children who are 5 and older are eligible for a Covid-19 booster. This includes individuals who have been fully vaccinated and have not received an additional vaccination this calendar year.

Vaccines are available at pharmacies, healthcare providers and Public Health. Some require appointments to be made.

Help your child get Vaccinated

CDC-COVID 19 Vaccine Information